What Does an Estate-Planning Lawyer Do?
Given that wills are the most well-known estate planning tool, it may be fitting that most assume estate-planning lawyers just write wills. In actuality, estate-planning attorneys are capable of providing far more comprehensive, complex services. An effective estate-planning lawyer should be able to use a suite of different tools to ensure that all of your assets quickly go wherever they need to. That means you can know for certain that your loved ones will get their share when you're gone. However, it's always important to be an informed participant in the estate planning process, which is why you should know exactly what an estate-planning lawyer can do for you.
The Estate-Planning Lawyer's Objectives

The first objective in estate planning is to take your needs into consideration. Any attorney will be able to make sure that your assets get disbursed to your loved ones. This can easily be accomplished with just a last will and testament. Estate-planning attorneys differentiate themselves because they create a system of wills and trusts to focus on more than just getting your assets to your family. They also help your loved ones bypass some of the expensive and painful bureaucracy that accompanies the process of disbursement.

Capable estate-planning attorneys are able to weave the best elements of asset protection into your estate plan. They will look at everything from the value of your assets to whether you have any outstanding debt. After this, they are able to select the best trusts to reduce estate taxes and stop creditors from taking away what belongs to your loved ones. That's not all. Estate-planning lawyers can even help your loved ones avoid probate so they can get the assets they need quickly. Many lawyers who don't specialize in estate planning write wills. However, selecting one of them over an estate-planning lawyer can be a huge mistake

Do You Conduct Annual Reviews?

Some estate planning attorneys will conduct reviews of your estate planning once or more per year in order to make sure everything is still up-to-date. Of course, such reviews typically come with a fee attached. Whether reviews are warranted, and how frequently, depends on you. Asking your attorney ahead of time lets you make sure that the services they provide align with your needs.

How General Practitioners Are Different

Lawyers who don't specialize in estate planning generally don't have the expertise to completely personalize your estate plan. As a result, if you rely on one of them you may end up with an estate plan that gets your inheritance picked apart by taxes and creditors. Many general practitioner lawyers are also unable to help you bypass the time-consuming headache of probate. Furthermore, regulations involving estate planning are regional and change frequently. A lawyer who doesn't specialize in estate planning may not know the minutiae of the current laws where you live. If you want an effective solution that is custom-built to fit you and your family then choose a specialist.
Estate-planning attorneys do much more than just writing wills. However, their capabilities mean that their services often cost more than attorneys without a specialization. Luckily, that slight increase in fees is nothing compared to the money that your loved ones can save by avoiding estate taxes. There are few things in life that are as important as your estate plan. Make sure your estate plan is flawless by trusting an estate-planning lawyer.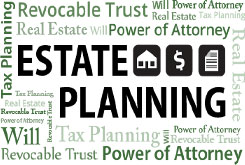 Request your Free Consultation or Call 212.596.7039 Today!