The Three Estate Planning Steps You Must Take Now
Most people don't spend a lot of time considering their estate planning. They visit an estate-planning attorney, get a set of documents drafted up and then put it out of their mind. They don't realize that it's important to be an active participant in your estate planning. It's imperative that you have an idea of what your family can expect when it comes time for your estate plan to be executed. Once you have such an idea, it becomes clear what actions you can start taking now to make sure that your loved ones are taken care of. When you follow these three simple steps you can start being a part of your estate planning and making sure that as much of your estate as possible goes to the people you love.
Predict When You'll Die

Of course, it's impossible to know for certain when things will draw to a close. In fact, that's one of the most important reasons that everyone needs an estate plan regardless of age. However, thanks to statistics, it's possible to get an idea of when you may expect to go. Look at predicted life spans for people born the same year as you under similar circumstances. Then, apply this information to come up with an idea of when you are likely to face the end.

Predict Taxes

One of the biggest goals in estate planning is to avoid the specter of estate taxes. Estate taxes may be unpleasant, but luckily they're predictable. Looking at estate tax exemptions for previous years can make it easy to predict what the exemption is likely to be in the future. This is useful when used alongside your prediction of when you're likely to die. You can come up with a rough idea of how many of your assets will pass under the estate tax exemption untouched and how many you'll need to pay taxes on. Your predictions likely deal with issues that won't happen for years or decades. However, you can start acting on them right away.

Spend

Saving, investing and living frugally make great financial sense in life. However, there's no point in scrimping and saving throughout life just so you can wind up paying huge estate taxes. Use your prediction of how much money you can pass on without being taxed to determine how much you want to keep saved. If you don't feel like spending the rest on yourself, consider starting to give that excess money while you're still alive. Whatever you do, aim to be exempt from estate taxes.
Making these predictions may sound difficult and time-consuming. If you aren't sure that you want to figure it out yourself, feel free to ask your estate-planning lawyer. Saving is important. However, there's no point in sacrificing throughout your life only to have your savings eaten up by taxes. Start being an active-participant in your ###### by making sure that you don't wind up saving too much. Not only will it make your life that much more comfortable but your loved ones will also be grateful.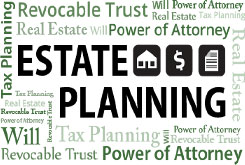 Request your Free Consultation or Call 212.596.7039 Today!