Finding The Best Estate Planning Attorney
It's understandable that the intricacies of estate planning are mysterious for most. Estate planning can be uncomfortable, so it's no surprise that most people don't spend much time learning about it. However, everyone owes it to themselves and their families to have a comprehensive estate planning solution in place. If you don't know about estate planning, it can be difficult to determine whether or not an estate-planning lawyer knows much either. Estate planning is a notoriously complex field. You don't want to leave your estate planning in the hands of someone who may not meet your expectations. Luckily, by asking your prospective attorney a few simple questions, you can figure out whether an estate-planning attorney is a good fit for you.
What's Your Primary Focus?

Any attorney can draft up a will and call it a day. As a result, many dabble in estate planning on the side. Such lawyers are incapable of creating a personalized solution to your unique situation. You and your loved ones don't deserve such haphazard care. If an attorney's primary focus isn't estate planning, then look elsewhere.

Do You Conduct Annual Reviews?

Some estate-planning attorneys will conduct reviews of your estate planning once or more per year in order to make sure everything is still up-to-date. Of course, such reviews typically come with a fee attached. Whether reviews are warranted, and how frequently, depends on you. Asking your attorney ahead of time lets you make sure that the services they provide align with your needs.

Do You Address All Aspects of Estate Planning?

You may never need estate planning documents, such as living wills, that don't deal with the end of life. Despite that, should a situation arise where you do need such a document, you may find yourself completely powerless without one. An ounce of prevention is worth a pound of cure. That's why it's important to make sure that your estate-planning attorney can create a plan that addresses not only death but also all possible eventualities.

What Else to Ask

The above questions should give you a good idea of what to expect when it comes to the specifics of estate planning. However, with any kind of attorney, there are more general questions that you also need to ask. Find out how many years of experience the attorney has. Ask about pricing and fees upfront. Make sure to get an estimate of when they'll complete the work. This information will help you get a big-picture understanding of exactly what to expect.
Even if you don't know the ins and outs of estate planning, you deserve the best estate planning possible. Your situation is unique and you deserve the services of a legal team that fits you well. Luckily, you don't have to settle for sub par standardized care. When you ask the right questions and know what answers to look for you can relax and rely on your attorney to take the stress out of estate planning. That's because asking these questions makes it easy to be confident you found the best attorney for you and your family.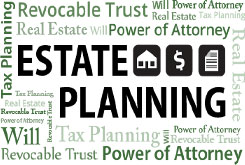 Request your Free Consultation or Call 212.596.7039 Today!